Posted: April 27, 2023 | Last Update: 15. Sep 2023
Off the beaten track: Sri Lanka's unspoilt North
Sri Lanka, the pearl of the Indian Ocean, attracts travelers from all over the world with its promise of beautiful beaches, verdant jungles, lush tea plantations, and Buddhist culture. And rightly so, because the island is so diverse in terms of topography and attractions that anyone keen on tropical climate will find something to their liking here.
Before the pandemic, up to 2 million visitors per year flocked to the small island, which is only about the size of West Virginia in the US. During peak season, it can sometimes feel quite crowded, especially in the tourist hotspots in the central highlands, the cultural triangle, and the holiday resorts on the beaches of the south coast.
Sri Lanka's North: Far away from the masses
Mass tourism is not something you have to worry about in the mostly unspoiled North – and that's what I want to tell you about today! Read on about my adventures and experiences in the triangle of the North: Wilpattu – Jaffna - Trincomalee
The drive to Sri Lanka's Northern Province
Once you have left the busy urban area of Colombo behind and embark on your drive to the North, you soon notice why even short distances take so long.
Motorways like we are used to just don't exist in this part of the country.

The trade off however is that you get to admire the views while driving at a slower pace: be that the Indian Ocean to your left or passing through a village or small town.
The countryside is not particularly diverse here, so don't expect mountains and lush green hillsides.
But what the landscape might be missing, the everday hustle and bustle of rural life in Sri Lanka makes up for – you will see farmers in the fields, roadside stalls selling fresh produce, cows crossing the roads, children playing in front of their houses and countless temples flying by your car window.
Every now and then you have to overtake a small tuk-tuk or change lane because the rice farmers have laid out their rice on the tarmac for drying.
And with all those sights to behold, the journey passes in no time and you have arrived at your first destination:
Wild animals in Wilpattu National Park
If you are anything like me, the first image that comes to mind when thinking of 'safari' is one of myself in an open jeep among a vast herd of animals somewhere in pristine nature – far away from any other human being. Are you with me? Right. Well, in Wilpattu National Park, this dream can actually become a reality.
And that's really not a given, because, as anyone who has been on safari before can probably confirm, some of the smaller or more popular parks can be as busy as the high street during season sales.


Wilpattu measures 1.317sq km / 325,437 acres , making it the biggest national park on the island, as well as one of its most remotes and therefore less visited.
However, if you are keen on seeing wild leopards and sloth bears in the wild, Wilpattu is worth the detour – the only place offering higher chances of leopard sightings is Yala NP. Other wildlife to spot are elephants, sambar deer, waterbuffalo and many more.
But before heading out on your game drive, you will need to grab a bite. After all, a safari takes about half a day and you don't want to go hungry. Your driver will of course know this and make sure you either get a lunch box or, in our case, make a restaurant stop before entering the national park.
When it comes to food before or during a safari, I want to share two things with you:
1) Be mindful of WHAT you eat. Public toilets in national parks are few and far in between.
2) Stick to light fare and small-ish portion size. The drive is going to be very bumpy and I have seen many people get sick.
Your safari adventure awaits!
Okay, enough of the talk, the safari adventure begins. Grab your camera, jump on the open jeep and off you go to Wilpattu National Park.

It won't be long before you catch a glimpse of colourful plumage: the beautiful birds of Sri Lanka.
Be that the jungle fowl (Sri Lanka's national bird, also known as Gallus lafayetii), a majestic peacock, a darting kingfisher or one of the many colourful bee eaters.

As you approach the watering holes, you will see wallowing wild water buffaloes with their egret companions in attendance.

And who knows, maybe at some point your driver will have to hit the brakes as an elusive leopard is spotted in the underbush or a fearless elephant herd decides to cross the path right in front of you.
Either way, by the time you arrive at the picnic area, you surely have made some exciting memories to take back home with you.

Now it's time to get off the jeep, stretch your legs, use the restrooms and climb the small observation deck jutting into the lake: from here, you should be able to spot crocodiles and water birds.

And sure enough, the curious makaque monkeys will come take a closer look at you from their vantage point in the trees.
Of course no sightings of wildlife are guaranteed when going on safari and depend on e.g. time of day and season.

If you are lucky you are in the right place at the right time. But regardless of how many animals you managed to spot, a safari is always an interesting experience.

To experience Wilpattu on a day trip or a multi-stop tour, check out these offers*
(affiliate)
Wilpattu National Park is located in the north-west of Sri Lanka, about 4.5 hours drive north of Colombo airport, and therefore pretty much half way to our next destination: Jaffna!
Jaffna, the Tamil's cultural capital in Sri Lanka's Hindu North
Any traveller to Sri Lanka will notice the country is Buddhist – more than 70% of its population follow the ways of the Buddha.
However, the second largest group are Hindu, about 13%. Many of them live in the northern and eastern parts oft he island, with the North Province being a veritable Hindu 'enclave'. This becomes fairly obvious on your journey, as you can spot the Hindu temple's fabulous and colourful gopurams (towers) from afar.

Local cuisine: hot and spicy
This part of Sri Lanka really is off the beaten tourist track, as only very tour agencies will put up with such a far detour of their standard route. Most visitors to the region are therefore Sri Lankans or Indians.

I think that also shows in the local food: it has the reputation of being the hottest and spiciest in all of Sri Lanka.

The Jaffna crab curry is famous even outside of the North Province and you can book cooking classes* to learn how to make it.
Of course I couldn't let that opportunity pass!
So on the evening of our arrival, I spent some time with the head chef at the 'Jaffna Fox Resort'*, where we stayed for two nights, and learnt how to cook Sri Lankan blue crab in a spicy sauce.

By the way: Sri Lanka is huge on exporting spices and the prices are really affordable. Make sure you leave some space in your suitcase to bring some back home with you.

(* affiliate links)
Jaffna city tour
But back to the topic:

Jaffna is the capital of the Northern Province and Sri Lanka's fourth biggest city with a population of about 170'000.

Its most famous building is the amazing Nallur Kandaswamy Temple.
Don't worry, you can't miss it, no matter where you are in Jaffna. After all, the Kandaswamy Kovil is over seven storeys high and visible from pretty much everywhere.
Unlike most other Hindu temples, it is not painted in many colours – instead, it is pleated in gold, making it all the more impressive. The temple is dedicated to Lord Murugan, the Hindu deity of war.
Here * is an overview of things to do and experiences in Jaffna
Further down the main road, you get a really good insight of what the genuine lifestyle of urban Sri Lanka looks like. It is shaped by contrasts and extremes, loud traffic, religious devotion, high-tech shops, derelict buildings and busy markets.
Just make up your own mind, here's a video of my walk along the high street of Jaffna:

Jaffna lagoon, a bird lover's paradise
On the next morning, we head for the lagoon. Bird spotters' bliss! You can admire the diversity of Sri Lanka's birds, be that storks, cranes, egrets, kingfishers, bee eaters or fish eagles, the lagoon has it all.
Twitching is becoming an ever more popular hobby in Sri Lanka and the island is a great destination for bird spotting.
Next stop on our itinerary is the island of Nagadeepa which you can, of course, only reach by boat. The passage takes about 30 minutes and you can either hop on the 'public ferry' or hire a private boat. There is however no difference in speed or comfort level – only the fact that you don't have to share the vessel with others.
The Tamil name for the island by the way is 'Nainativu'. Both names are officially recognised. The tiny island, only about 2.5 miles long and 1 mile across, is one of the most sacred sites for both Buddhists and Hindus.
Two very important pilgrimage sites have been built here right next to one another: the Nagadeepa Purana Vihara and the Nagapooshani Amman Temple.

Please check out my other article about the '9 best temples in Sri Lanka' for more information on and photos of both of them as well as the Nallur Kandaswamy Temple in Jaffna.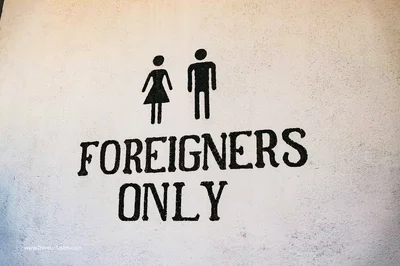 However, I do want to share a random find with you that made me giggle a bit: a public restroom that is reserved to foreigners only. Local devotees are not allowed to peruse it, which I did find a bit unfair.
We spend another night at the 'Fox Resort Jaffna': it's a very pleasant small resort in colonial style architecture and offers good food and service. A good place to relax after long car journeys.

One thing you should be aware of is that most hotels in the Northern Province do not have a license to sell alcohol. If you like to enjoy a drink or three, there are plenty of liquor stores in Jaffna that sell beer, wine and liquors.
Trincomalee: Beach, Snorkelling and Whale Watching
Our journey continues: on to Trincomalee, a seaside town about 150mi south, on the north-eastern coast of Sri Lanka. The drive takes about four hours.

Trincomalee is said to be one of the best places for a beach holiday on the island. Since we are not really beach holiday makers, we don't feel qualified to comment on this. However, during our stay, it was very windy and the waves were high – the hotel recommended not to swim in the sea.
We explored a bit more of Trincomalee on a city tour but have to come tot he conclusion that the city does not really captivate us.
In hindsight, we should have booked the snorkelling trip to Pigeon Island*, which is said to be one of the country's best places to snorkel and see marine wildlife or gone whale watching * . What is it they say? 'Hindsight is 20/20'
The much heralded Fort Frederick, a Portuguese Fort dating back to the 17th century, turns out to be a bit of a disappointment. The picturesque entry arch is one of the very few colonial style buildings there.

We did however like the serene vibe of the place, deer roaming free and the huge banyan tree.

Highlight of any visit of the Fort however ist he Koneswaram Kovil temple with its 100ft tall Lord Shiva statue. You can read more on this awesome temple with a view over the ocean in my article on the best temples in Sri Lanka.
A hidden gem we found next to our hotel in Trincomalee was the 'Café on the 18th`and `Fernando's Bar` right next to it. If boho and backpacker vibes are your thing, that's the place you want to be.

As much as we enjoyed our detour tot he Northern Province, we are now looking forward to travel to the central highlands and explore tea plantations and green jungles.
Is North Sri Lanka worth it?
We explicitly chose a tour that covered the island North to South, because we wanted to explore and experience all of Sri Lanka.
In hindsight, we would however not do it again and rather spend some more time in the cultural triangle or the central highlands, because we really loved it there.

However, the North has a lot to offer: if you love exploring off the beaten track, this tour is for you!
Whether you decide to tour Sri Lanka's north or stay in the center and south, you can find the trip of a lifetime on TourRadar*
*affiliate link
Related Posts